Authentic Civil War Era Songs Complete With Regimental Band Music

GETTYSBURG is a sweeping historical drama that befits the greatest epic battle ever fought on American soil. The film stars a host of noted actors, all accurately portraying their characters. Based on the late Michael Shaara's acclaimed novel "The Killer Angels", the actors are completely believable. Martin Sheen (Lee), Tom Berenger (Longstreet), Jeff Daniels (Chamberlain), and Sam Elliott (Buford) are all first rate, just to name a few. It is historically correct throughout the story, and all the major characters are real. They really did, and for the most part said, what is depicted on the screen. There is none of the usual "improved upon by Hollywood" here. This film tells it like the actual participants say it went. Even the geography and the extras are real. The location shooting was at Gettysburg National Military Park. And the extras are accurate down to the insignia and buttons on the uniforms. Thousands of Civil War "re-enactors" were used for the battle scenes. The film is divided into two parts, with an intermission. The first section, which begins on June 30, 1863 (the day before the start of the battle of Gettysburg) and ends during the day of July 2 with Col. Joshua Chamberlain's legendary defense of Little Round Top. The second part concentrates primarily on July 3 and the disastrous charge of Maj. Gen. George Pickett and 15,000 members of the Confederate Army against the entrenched Union position atop Cemetery Ridge. Over 50,000 were killed or wounded during this pivotal battle of the Civil War, and Gettysburg takes pains to breathe life and logic into the reasons for this. Yet it does far more than that. Rather than functioning as a text book come to life, the film uses its actors to flesh out characters from history, giving not only personalities to those on both sides of the struggle, but believable causes as well. We are presented with the rare opportunity to see not only the clash of arms on the field of battle, but the clash of wills beforehand.
Starring ...
Martin Sheen, Tom Berenger, Jeff Daniels, Sam Elliott,
Stephen Lang, C. Thomas Howell, Cooper Huckabee,
Richard Jordan, Kevin Conway, Brian Mallon
Director: Ronald F. Maxwell

Producers: Moctesuma Esparza & Robert Katz

Year Released - Feb. 1993

Length - 254 minutes

Music Composers: Randy Edelman

Movie Distributed by New Line Cinema

To search and purchase anything related with the movie listed on this page
Gettysburg ,then simply just click on this link here. Thank you...
Click on VHS tape
for enlarged view



CLICK HERE
to buy this VHS tape

Click On CD Image To
Enter Soundtrack Page






Click on DVD tape
for enlarged view



CLICK HERE to Purchase DVD
Videos in both the VHS or DVD format can be purchased at
AMAZON.com Thanks For Your Continued Support...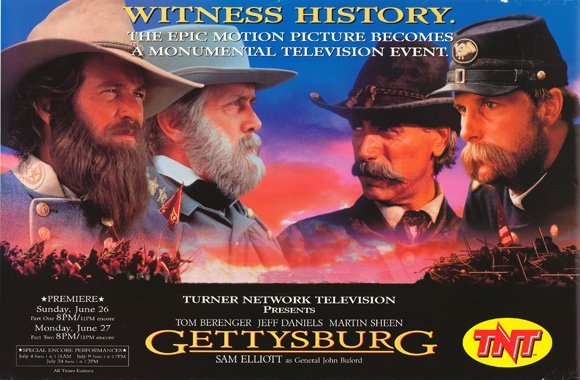 View The Movie Image Library
(Movie Stills) - Gettysburg

OR
Click Here To View


Return to the "Other Wars" Index Page


Get All The Greatest Big Band & Early American Jazz From The 1920's thru the 1940's